Increasing survival rates for children, and adults experiencing an injury or illness in the nervous system, has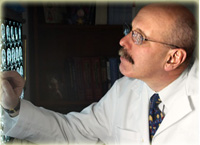 resulted in more people with permanently dysfunctional nervous systems. In response, numerous treatments have been developed.
Neurology provides care to patients with diseases of the brain, spinal cord, peripheral nerves, or muscles. Specialists offer diagnostic evaluation, consultation, and management of neurobehavioral and memory disorders, neuromuscular diseases, cerebrovascular disease, movement disorders, seizure disorders, sleep disorders, brain tumors and headache. Research interests of the department's neurologists include Alzheimer's disease, Parkinson's disease, multiple sclerosis, molecular immunology, neuronal cell biology, biochemistry and neuropathology.
The following conditions can be treated with Gamma-knife:
Parkinson's
Trigeminal neuralgia
Arterioveous malformation
Essential tremors
Benign tumors
Malignant tumors
Epilepsy
All type of brain tumors are removed microscopically. Examples of brain tumors operated are
Meningiomas
Pituitary tumors
Craniopharyngioma
Glioma
Hemangioblastomaependymoma
Acoustic tumors
Trigeminal neuromas
Base of skull tumors
Skull tumors
Orbital tumors
Intra ventricular tumors
Clipping of all type of aneurysms of both anterior and posterior circulation
Small to giant aneurysms
Surgery of arterio-venous malformations
Carotid endarterectomy
Arterial bypass surgery
Spinal tumors vise. bony, extra dural tumors, intra dural tumors, intarmedullary tumor and spinal fixation
Microsurgery for cervical and lumbar disc surgery
Endoscopic lumbar disc surgery
All type of congenital, neoplastic, traumatic, vascular problems
Hydrocephalus
Craniostenosis
Spinal dysraphism
Chiari malformations
All type of pediatric brain tumors like
Craniopharyngioma
Gliomas
Ependymoma
Medulloblastoma
Endoscopic transnasal surgery for Pituitary tumors
Endoscopic third ventriculostomy for hydrocephalus
Intra ventricular tumors - colloid cyst, cysticercus
Lumbar disc surgery (Band-Aid surgery)
Stereotaxy
Deep brain stimulation
Pallidotomy and thalamotomy
Epilepsy surgery-vagal nerve stimulation
Surgery of brachial plexus and other peripheral nerves
All type of traumatic, neo plastic, entrapment disorders of nerves
Carpal tunnel syndrome
Coiling of aneurysms
Embolisation of intracranial and spinal AVMs
AV fistulas
Embolisation of tumors
Carotid angioplasty
Cerebral
Spinal angiography
Radio frequency ablation for trigeminal neuralgia
Facet joint ablation
Microvascular decompression for trigeminal neuralgia and glossopharyngeal neuralgia
Intra-thecal baclofen pump implantation for spasticity
Head and Spine injuries
Strokes
Aneurysm
AV malformations
Congenital Disorders like Hydrocephalus
Spinal Dysraphisms
Spinal Tumors
Disc Disorders
Treatment of Trigeminal Neuralgias
Parkinson's disease
Aneurysm coiling
Carotid Stenting
Angioplasty
Neuroendoscopic System