LASIK is the safest and ac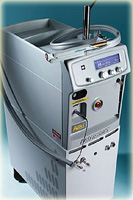 curate method to correct short sight (myopia), Long sight (Hyperopia), Astigmatism (Cylindrical powers) and other Corneal scarring disorders. The basis for all laser eye surgery is to reshape the cornea such that it changes the focal point of the eye. Ideally, the focal point is changed so that it focuses perfectly on the retina, just like a normal eye.
LASIK is in existence since 1988, and has already gained wide acceptance world over. More than 5 million people in USA and millions more worldwide have undergone LASIK.
Contact lenses require special care and careful maintenance. Moreover it is a recurring expenditure. A full 5 years use of contact lenses would cost you almost same as LASIK treatment.
LASIK is a very simple procedure done with application of just anesthetic drops. It is just the reshaping of the cornea with the help of a cold laser (Excimer Laser), with sub micron accuracy.
A thin corneal flap is lifted with the help of a Hansatome which is integrated with the main machine and laser is applied on the cornea in computer controlled, predetermined manner. This flap is replaced immediately, which adheres within a minute. LASIK is not at all a complicated procedure. Given below is the procedure step by step:

After your eye has been numbed with "eye drop" anesthesia, an instrument known as an eyelid speculum will be positioned to hold your eyelids open. You will remain awake and comfortable throughout the procedure.
A small suction ring will be placed around the cornea and serves as a platform for the microkeratome.

The microkeratome separates the surface layers of the cornea, and the corneal flap is folded back.

You will be asked to look at a target light while the Excimer laser reshapes the corneal tissue. A clicking sound can be heard as each microscopic layer of tissue is vaporized. This process will last from seconds to minutes, depending on the amount of correction necessary.

The corneal flap is then placed back into its original position and allowed to dry for a few minutes.
You will be given additional eye drops, and your eye may be shielded for protection. Your vision will probably be a little blurry at first so have someone drive you home and relax for the rest of the day.
Any person above the age of 18 years whose power is stable for the last 1 year. There is no upper age limit.
Myopia : minus 1 to minus 20 diopters
Hyperopia : plus 1 to plus 8 diopters
Astigmatism : up to 8 diopters
No injection
No prolonged medication
No surgery
Totally an out patient procedure
Treatment over within 10 minutes
Normal activities can be resumed the next day
Permanent, once in life time treatment
Minimum recurrence of power