Aravind Eye Hospitals began in 1976 with just 11 beds. Today, in addition to the hospital in Madurai, there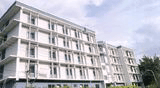 are four other Aravind Eye Hospitals in Theni, Tirunelveli Coimbatore, and Pondicherry with a combined total of nearly 3,590 beds. At Aravind Eye Hospitals great stress is placed on maximum utilization of resources. The hospitals have well-equipped specialty clinics with comprehensive support facilities.
1,721,898 outpatient visits were handled and 247,235 surgeries were performed at the Aravind Eye Hospitals in 2005.
This is a magnified photography of the retina using an injectable dye. It helps in confirming diagnosis, to decide on the mode of treatment and evaluate the treatment given.
To image the retinal layers. It uses light waves to produce images of the retina, much like sound waves in USG. Use of light wave means even the minutest details are displayed. OCT has opened a new frontier in management of posterior segment especially macular diseases.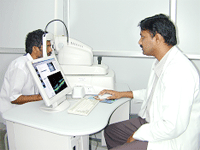 When light falls on the retina it stimulate many different types of cells. This results in different electrical responses. Study of these responses can help us detect which cells are healthy and which are not. This is very helpful in managing patients with inherited retinal problems like retinitis pigmentosa or acquired damage from drugs etc.
Uses sound waves of very high frequency, these waves are sent into the eye and those reflected back are analyzed and displayed. USG is extremely useful in evaluating the posterior part of the eye when, we can't see it due to cataract or blood. It is helps in making crucial surgical decisions, too.
Lasers are widely used in treating diabetic retinopathy. Lasers are formed by an intense and highly energetic beam of light. They can slow down or stop the progression of diabetic retinopathy and stabilize vision.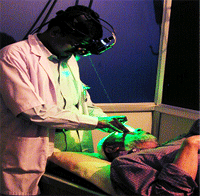 The clinic is equipped with multiple lasers with slit lamp delivery and indirect ophthalmoscope delivery systems. Both double frequency YAG and diode laser are available for treatment of diabetic retinopathy, retinal holes , tumors, Retinopathy of Pre maturity, retinal vascular diseases etc. In addition Transpupillary Thermotherapy and Photo Dynamic Therapy for treatment of tumors and sub retinal neo vascular conditions are also available. Laser treatment is usually performed as an outpatient procedure. The patient is given topical anesthesia to prevent any discomfort and is then positioned before a slit lamp. The ophthalmologist directs the laser beam precisely on the target with the aid of the slit lamp and a special contact lens. Absorption by the diseased tissue either seals or destroys the tissue. Additional treatment may be required according to the patient's condition.
Over the last five years the clinic has developed a screening program for premature infants in collaboration with the neonatal care units at different hospitals in Madurai. Awareness about ROP and the need for regular examination is imparted to pediatricians, infant's parents and other ophthalmologist. All the facilities both for laser and surgery to manage these ROP patients are available.
The light sensitive drug- visudyne is injected into the patient's bloodstream which accumulates in the abnormal new vessels in the eye. This drug is activated by a non-thermal laser which closes these abnormal vessels without damaging the overlying sensory retina. Studies have shown that PDT slows the progression and improves vision in some forms of age-related macular degeneration.
TTT is a cost effective alternative in the disease forms not eligible for PDT. This is a low energy diode laser which directly closes the abnormal vessels with a small risk of damage to the overlying retina.